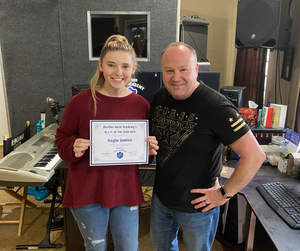 This year has been a crazy one, to say the least!  With the pandemic, hurricanes, tornados, earthquakes, etc... Martins Vocal Academy has stood strong with our wonderful community and continues to be a service to our music and performing arts programs in our community and surrounding areas not to mention the online lessons we do as an option for our local and out of state students. 
Here at Martins Vocal Academy we always strive to be the best we can be. It shows in the methods that we teach and in our students as they apply what they learn and are showing the music and entertainment industry just how talented they are.  I've often said that I am truly blessed to have the best students in our academy and I am so proud of each one of them!
Each year we award one student with the M.V.P. Award.  This student shows the most dedication, desire, discipline, and determination to not only their skills but to MVA as well.  They show up, put in the work, and the results are amazing!  
We are so proud to announce this year's recipient of the Martins Vocal Academy M.V.P. Award to Kaylie Gamble! 

Kaylie will receive a 10 song recording package valued at $5000.00 and we will be starting her debut album in 2021!  If you've been privileged to hear some of her cover tunes from our Recording Studio Experience program, then you know Kaylie can sing any song she chooses to.  We can't wait to start production on this project with Kaylie and help her with her future in the music industry!
We are so excited for Kaylie and what she is doing with her music!  Her voice is beautiful and the music she will be making in the future is going to touch so many people's lives.  
Congratulations Kaylie!  You deserve this!
MVA Vocal Coach - Jerry Martin