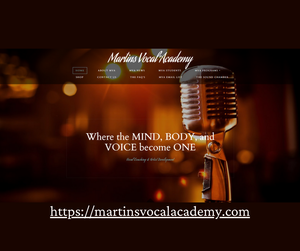 2018 marked the start of something very special in Maryville, Tennessee.  The opening of what is now Martins Vocal Academy has struck a chord with the performing arts community as well as the local music scene here and in surrounding areas. The academy is backed by Vocal Coach, Recording Artist, and Hall of Fame Inductee, Jerry Martin. Not only has Martins Vocal Academy found success in its community but also abroad.  MVA services our local community and is a big supporter of local small businesses but also caters to many students who can't make the trip weekly to the academy.  We are involved in some of the local music programs in schools as well as local community theatre groups such as the Primary Players Children's Theatre Group.
Our online lessons are of the highest quality just like you would receive if you were inside the academy itself.  We have served many out of state and worldwide vocalists and entertainers in this capacity which gives us a way to help those students who aren't able to travel to Martins Vocal Academy in person.  Although we have had some students who wanted to work face to face inside the academy and they went through our popular MVA Vocal Workshop where we spend 6 hours working with a student or groups of students in many different aspects.  We not only teach our vocal methods that are industry proven to sustain and give you greater longevity in your voice and career but we also have other programs that build upon music careers that give you the edge and break through all of the noise that the music industry is saturated with today. 
Our very popular Artist Development program will get you started the right way and build the foundation of your career up as the artist grows.  It's one of the most popular programs we offer alongside our Recording Studio Experience program.  This is an extension of our Private Vocal lessons. The student really gets to dive in and see how their voice responds to certain genres and songs.  If any issues arise, this is where we show them how to fix them and move forward.  It is truly a state of the art program that only we offer here at Martins Vocal Academy.  
We have other programs that are very successful in helping students in the performing arts.  Our Performance Coaching and Audition Prep Coaching is second to none!  We prepare our students for their auditions as we run lines, go through songs, and have them act out their performances and really hone in on what they are needing.  Our students not only strive to do well in auditions but they get the parts!  
We also have a Stage Performance program that helps our students be more confident and learn to command the stage each and every time they are on it.  They are able to connect with the audience in such a way that the audience wants to hear more every single time.  This is the MVA way and we know what we do works.
There is so much more we are doing at Martins Vocal Academy and we are very proud to stand behind what we offer.  One more special thing we do each year is that we grant the Martins Vocal Academy M.V.P. Award to one student who shows the most dedication, drive, discipline, and determination to their own skills and the MVA as well.  They show up each week ready to learn, create, and reach higher to the next level.
What the M.V.P. Award entails is a 10 song recording package that is valued at $5000.00!  This is where we really deep dive into the recording and deliver a radio-ready album that will be released to all streaming platforms as well as radio if they so choose.  It also gives the student a big push into the music industry!
2021 and Martins Vocal Academy is ready for you to make your own mark in the world of the performing arts and music industry. 
WE ARE NOW IN OPEN ENROLLMENT!  Grab your spot and become one of the elites in MVA!  No matter if you are a beginner or a veteran of the industry, all are welcome!  You can contact us today to get started and book your FREE Consultation!